Shakely, Jack – POWs at Chigger Lake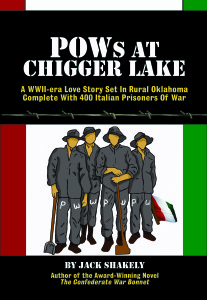 "[A]ttention to detail is the story's greatest strength, the author's research enriching the fabric of the tale without calling undue attention to itself…. you can feel you are there."
– Bob Sanchez, The Internet Review of Books
"[A] superbly researched and highly interesting account of Italian prisoners of war in Oklahoma during World War II. The result is a moving story of the middle-American home front during the only war of the twentieth century Americans still remember fondly."
– Dr. Alan Velie, Dean Emeritus, School of English, University of Oklahoma
"A feel good novel … I enjoyed the way [the author] wove the themes of Italians and Native Americans along with the POWs which puts the latter in a bigger landscape. Realistic, fascinating stuff!"
– Janet Worrall, Professor Emeritus, Northern Colorado University, author of Italian Prisoners of War 1943-1945
1943. The Allies have captured Tripoli from the Italian forces. The Germans have surrendered at Stalingrad. And the British suddenly find themselves with hundreds of thousands of prisoners of war without the ability to feed and house them.
The solution? Send them to the United States. Lieutenant Tom Gregory–whose family came from Italy–is assigned the responsibility for opening and running a camp for Italian prisoners of war. The P.O.W. camp is set smack dab in tiny Weleetka, Oklahoma in a spot named Chigger Lake.
Lieutenant Tom Gregory is aided in his task by a motley cast of characters: Floyd Breedlove, the civilian handyman who introduces Tom and his friends to the local customs and culture of the Creek Indians; Private Murray Lipton, the high strung boy genius with the talent of a concert pianist; Oklahoma Garland, the no-nonsense owner of the local newspaper who was born on the day her namesake achieved statehood;Vito D'Amico, the P.O.W. turned translator who was born in Italy, raised in Brooklyn, then drafted and stuck between both allegiances; and Lieutenant Connie Ballard, the nurse/nutritionist assigned to the P.O.W. camp who winds up taking Tom's heart prisoner.
During his days at Camp Chigger Lake, Tom learns that most of the Italian prisoners, forced into service by Mussolini, are actually quite happy being in America; that many Italian-Americans are less than enthusiastic about how their own country has treated them; and that sometimes the wrong people are outside the prison walls.
Equal parts humor, drama and romance are combined in this novel about a little known aspect of America in World War Two.
Jack Shakely is the author of the award-winning novel, The Confederate War Bonnet. His writing adeptly blends fiction with true historical events. He is graciously donating all of his royalties to Operation USA, a privately-funded agency that provides relief for disasters, disease and poverty throughout the world. Operation USA was founded in 1979 to help Vietnamese Boat People, and has been lending assistance all over the globe ever since. More information can be found at www.opusa.org.