Katz, Michael S. – Shalom on the Range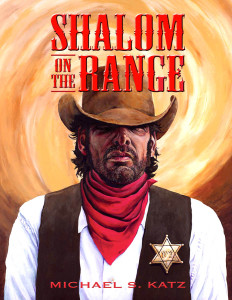 A young man from an affluent Philadelphia family, David Goldstein is proud to be Jewish. As a detective for the Kansas-Pacific Railroad, he has demonstrated his mental acuity as well as his ability to handle himself in a physical confrontation.
In September of 1870, David is assigned to investigate a train robbery near Denver, Colorado. For the first time in his life he travels to the mythical "Wild West" he has only read about in dime novels. Understandably out of his element, he hires local bounty hunters to help him track the vicious band of outlaws. His companions include Red Parker, the moody ex-Union soldier; Jake Becket, the equal-opportunity bigot with the roguish good looks; and Harvey White Crow, the taciturn Ute Indian whose silent demeanor conceals a piercing intelligence. Along the way they meet a mysterious woman named Elizabeth, a Southern belle who claims to be a Pinkerton detective also assigned to the case.
David's journey exposes him to different forms of anti-Semitism, from his own employer to complete strangers, and makes him question his own preconceived notions of what it means to be a Jew and a human being.
"Think Louis L'Amour meets Jerry Seinfeld. Shalom On The Range is an irreverent, quirky and fast-paced non-traditional Western read." 
– Johnny D. Boggs, Spur Award-winning author of Camp Ford and East of the Border
"The somewhat kooky title of Michael Katz's novel, Shalom On The Range, does not do justice to this Old West detective novel. Set strikingly accurately in the 1870s, the book portrays the cowboy-Indian saga, the first railroad lines and horse trails and saloons, nearly inserting the reader into the places and the characters' minds. … Other developments in the book catch the reader off guard, keeping interest high and giving the book a multi-layered feel. … The book finishes –– open –– with a feeling of hope and a sense that good things are about to happen. This reviewer found the book refreshingly different and fun."
— Maayan Jaffe, The Jewish Times
"The familiarity of the Old West is present in every page, as are the thieves, bounty hunters and low down dirty scoundrels who would stab you in the back for a dollar. Fast-moving, daring and at all times captivatingly charismatic, Shalom On The Range is a must read round-up classic. Katz delivers with guns blazing and yarmulkes soaring."
– Jimmy Palmiotti, writer of Jonah Hex, Painkiller Jane, and Beautiful Killer
"Take a dollop of Gene Wilder's Rabbi Belinski in The Frisco Kid, add a dash of John Wayne and you have David Goldstein, a Jewish college-boy turned railroad detective. Add to this recipe two killer bounty hunters, a Ute Indian tracker, a beautiful Pinkerton operative, plus a murderous gang of train robbers and you have the makings for a wild and woolly Western yarn. With authentic Old West details, plenty of humor and 'edge of the seat' action, Shalom On The Range is a page-turner whether you are kosher or not!"
– William "La Vista Bill" Bell, Guns of the Old West magazine
"Katz has concocted a high-octane tale that combines traditional Western storytelling with a unique cultural perspective. It's packed with enough action and gunplay to satisfy any adventure junky, and even experienced Western history buffs are likely to learn a thing or two."
– Mike Beliveau, Guns of The Old West magazine
"An obvious passion project for its author, astounding in its detail, Shalom On The Range offers a new take on the Old West. Michael Katz has branded his name on the Kosher Western. Jews and Gentiles, cowboys and Indians, horses and horas; Shalom On The Range has it all!"
– Craig Browner, JewReview.net