Field, Richard Warren – The Swords of Faith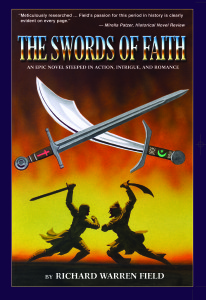 Richard Warren Field's novel won the Bronze Medal in the Historical Fiction – Military/War category of the Independent Publisher Book Awards. Over 2,000 books competed for awards in 69 categories.
The Swords of Faith tells the story of a military confrontation, with two fascinating characters of the Middle Ages, Richard the Lionheart and Saladin, going head-to-head. But few realize how much these men had to set aside fanaticism and cooperate to bring hostilities to an end. That is the emphasis of The Swords of Faith: a rejection of religious fanaticism in favor of religious tolerance.
The Swords of Faith was also a finalist in the USA Book News Awards for Best Books of 2010 in the Historical Fiction category and a runner-up in the 2011 International Book Awards in the category of Historical Fiction. In describing the book, Historical Novel Review stated that Richard Warren Field "relays historical facts and details through action and dialogue instead of narrative. In this way, he makes the story literally spring off each page." Historical Novel Society Review online called The Swords of Faith "a balanced, well-researched attempt to show both sides of the story … carefully plotted and paced to make the reader feel propelled into the consequences of the meeting of the armies of both faiths."